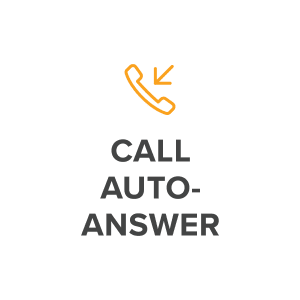 When you are ready to give your company a voice you can add the Call Auto-Answer Service. Firstly, we provide you with a local telephone number and the Call Auto-Answering service. Secondly, the Auto-Answering service is for after-work hours, holidays, and weekends. In addition, the auto-attendant answers your calls in your company's name and provides up to 6 dialing options.
End-User Experience
A caller will seamlessly be forwarded to an external client number(s)* or get sent to your voicemail box. In other words, your caller will select the person or category that launches them immediately to the appropriate phone line. The technology makes it all a real-time connection. Or if sent to voicemail they will hear your company's wonderful greeting then leave a message and it will be emailed to you.
Receive all your voicemail messages in your inbox for email. Attached to each email is a .wav file you click on to listen to the message. If you have email available through your cellular phone then the voicemail messages are at your fingertips.
Do not worry about counting your voicemails for cost's sake. All voicemails sent to email are covered with each voice box usage. without fail. 
Virtual Offices of NYC provides a business address, mail, and phone answering services for small to large companies.
We've been in business since 2010 and our BBB Accredited Business A+ Rating is a testament to our success.
PRE-PACKAGED VIRTUAL OFFICE SERVICES
ADD-ON VIRTUAL OFFICE SERVICES