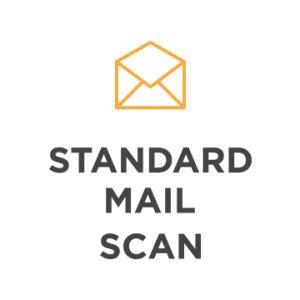 When you receive mail you will know about it the same day using the Standard Mail Scan Service. This service assures you will receive an e-mail with your mail envelopes visibly attached in a scanned document, as a result, you get a birds-eye view of the mailbox contents. The benefit to this is knowing what important mail has come in and determining any changes to its handling, whether you are coming in to pick it up or having the staff mail it out sooner rather than later.
The great thing about our virtual office services is the flexibility and intelligence they provide to the small business owner. With our mail services, the Standard Mail Scan is one of these great virtual services. You should be busy daily with business tasks that will grow your company and if something important comes in the mail you should know about it ASAP. As our staff receives your business's mail we will alert you of it and then scan all mail envelopes exposing who is sending mail. 
Having the information to whom is sending mail upon its arrival will offer you the options for your business decision processes. Should we shred it? maybe it's important and we need to overnight the mail? or it's something that can wait but is important so we send it to you regular mail.
Virtual Offices of NYC provides a business address, mail, and phone answering services for small to large companies.
We've been in business since 2010 and our BBB Accredited Business A+ Rating is a testament to our success.
PRE-PACKAGED VIRTUAL OFFICE SERVICES
ADD-ON VIRTUAL OFFICE SERVICES