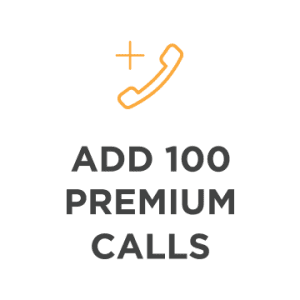 PREMIUM LIVE ANSWERING SERVICE
100 more monthly calls coming into your business line. That sounds like growth to us and we're proud to answer more calls for a professional growing business like yours.
Your current Pro Plus Package will have 100 calls added to the Live Standard Answering portion of your package.
Adding 100 more calls to your business Pro Plus Virtual Office could be a big sign of positive growth.  From our "Live Message Taking" to our "Live Find Me Follow Me" answering services we are proud to help you grow. 
Adding 100 Live Answering Premium calls in a bundle creates the most inexpensive way to add business calls. Adding calls at the end of the month costs $1 per. Even though we do allow the customer to upgrade with call bundles mid-billing-month money we are grateful for your business.
Virtual Offices of NYC provides a business address, mail, and phone answering services for small to large companies.
We've been in business since 2010 and our BBB Accredited Business A+ Rating is a testament to our success.
PREMIUM LIVE ANSWERING SERVICE
PRE-PACKAGED VIRTUAL OFFICE SERVICES
PREMIUM LIVE ANSWERING SERVICE
ADD-ON VIRTUAL OFFICE SERVICES
PREMIUM LIVE ANSWERING SERVICE